What Chaperones Need to Know
What Chaperones Need to Know

Topics
Patient Safety
Lessons from one training program in North America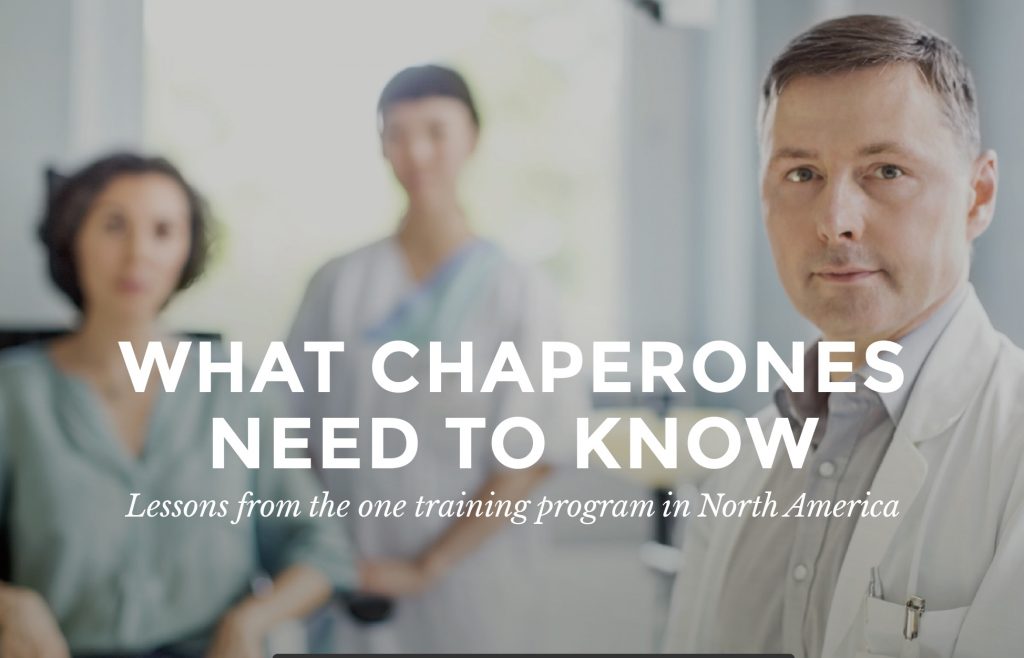 Belinda Panganiban teaches the chaperone training workshop at MacEwan University in Alberta, Canada. The workshop was launched in 2008 by the College of Physicians and Surgeons of Alberta (CPSA), which regulates the practice of medicine in the province. Eager to ensure the effectiveness of the chaperones it sometimes requires in disciplinary cases, the College has partnered with MacEwan University to offer the workshop twice a year. 
At $15/hour, chaperoning is not generally considered a career path and almost no one enrolls in the MacEwan course on their own. Instead, physicians who are required to have chaperone as the result of a complaint, send office staff, who have other responsibilities as well, to the one day class. Workshop participants generally come from within Alberta and so far at least have been exclusively female.
While the attendees range in age and experience, virtually all have some medical training. Some are nurses and physician assistants, but according to Leanne Minckler, a CPSA Physician Health Advisor, more than 90% are trained as Medical Office Assistants (MOAs), which means they have graduated from a training program that combines business/office skills with medical administrative/clinical training, including basic instruction in medical terminology, anatomy and physiology, medical transcription, medical office procedures, and clinical procedures.
Such basic familiarity with clinical practice is extremely valuable, since chaperones need to understand what is customary and appropriate in intimate examinations, understand the physician's explanations well enough to help reassure patients when necessary and generally behave professionally during examinations that can be uncomfortable and embarrassing for patients.
What chaperones need to know. According to the General Medical Council (GMC), an independent organization that helps protect patients and improve medical education and practice across the UK, a well-trained chaperone should:

Be sensitive and respect the patient's dignity and confidentiality
Reassure the patient if necessary
Be familiar with the procedure involved in a routine intimate examination
Stay throughout the examination and be able to see what the doctor is doing, and
Be prepared to raise concerns about a doctor's behavior or actions.
The MacEwan workshop also stresses the rights of patients, in particular the importance of patient consent. The office policy regarding chaperones should be posted for all patients to see, explains Minckler, but It's up to the physician to ensure that each patient understands the chaperone's role and agrees to their presence throughout the examination. "If the patient objects and it's a mandatory chaperone," says Minckler, "then that examination can't continue." The doctor can give the patient options, such as seeing another physician, but the chaperone is taught not to remain without explicit patient consent.
In addition to such fundamental concerns as patients' rights and confidentiality, workshop attendees also gain a clear understanding of such practical concerns as:
Where to stand so they have an unobstructed view;
How to properly document their role: Not only should the patient's record note the presence of the chaperone, it should also include their name and full job title in case a complaint materializes years later;
How to recognize common boundary issues, such as asking a patient for their private cell phone number during an examination;
How to deal with something inappropriate in the moment. "Chaperones are often the silent observer in the corner," says Minckler, "so we try to give them some measure of empowerment."
The willingness to speak up is a challenge. "How comfortable is a chaperone going to be speaking up? That's the big $100K question," notes Porter. "I believe it might be easier in a larger practice, but in a smaller group, is a chaperone going to call out their boss?"
Minckler stresses that it's important to address this issue with each participant individually. "Every clinic is independent and does things its own way, so we have to find out how comfortable that chaperone feels in their position. Do they feel they can interject, do they have recourse to the clinic manager?" Minckler herself does chaperone audits and one of the key things she asks chaperones about is how they would deal with a physician who crosses a boundary.
To encourage workshop participants to come away with practical information customized to their individual situations, the course employs a number of scripted video vignettes designed to provoke student interaction and discussion. After watching the videos, which present real-world situations based on recurring themes, students tend to open up, telling each other what happens in their clinics and how similar situations have actually played out. These interactive sessions encourage students to work through with Panganiban how they will apply what they've learned once they are back in the office.
So far, the MacEwan course trains only about 30 chaperones a year, in part, Minckler believes, because the College does not have the resources to promote it more widely. That may change and similar training programs may be started in this country as more physicians and hospitals become aware of the value of well-trained chaperones.