The Other Person in the Room
The Other Person in the Room

Topics
Patient Safety
Why medical chaperones exist and why they are under utilized
It is less and less common these days for physicians to see patients without someone else in the room. It may be a nurse or physician's assistant. Sometimes it's a student or intern. Even when there is ostensibly no one else in the exam room, there is almost always the looming presence of a computer, which physicians seem to interact with at least as much as they do with their patients. There may also be a scribe, someone trained to take notes during the exam so that the doctor can focus more attention on the patient and spend more of the day seeing other patients.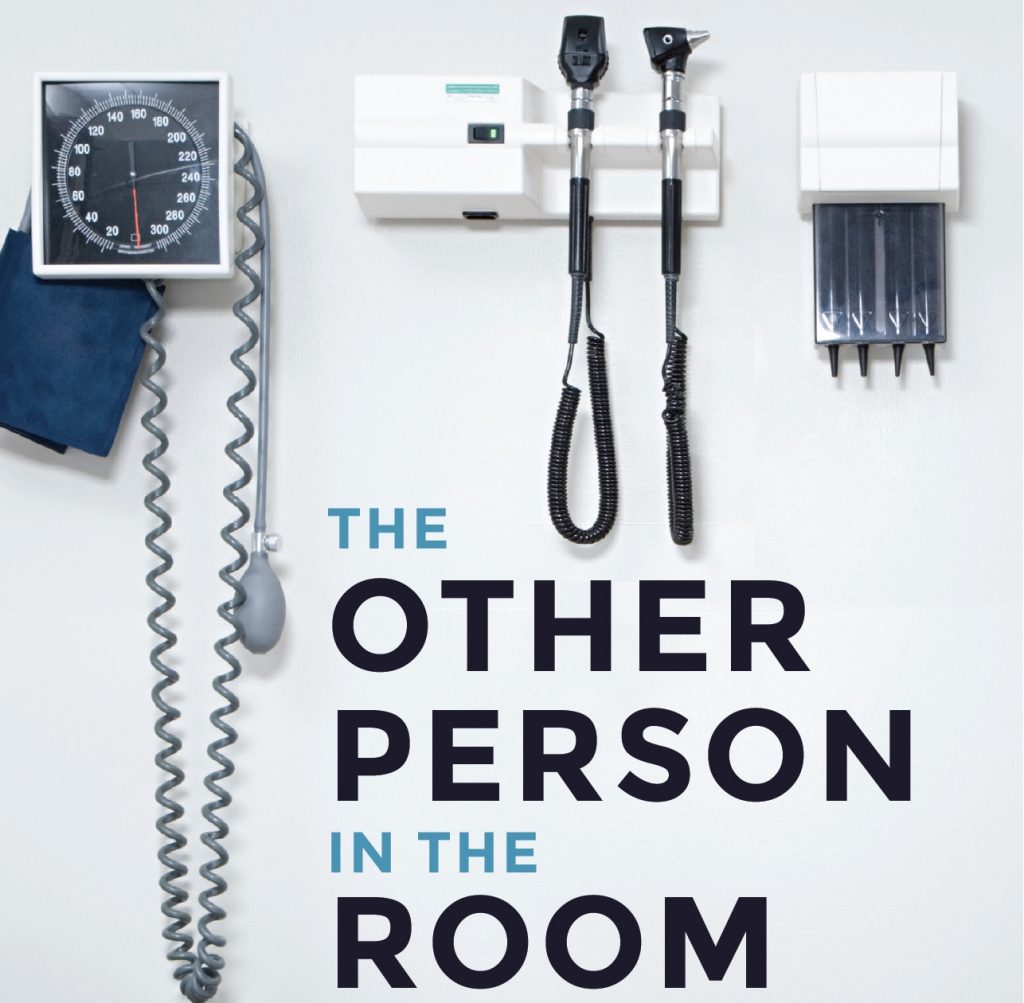 What you rarely see in the exam room is a medical chaperone. No one is keeping track, but at least in this country, most experts agree that chaperones are generally employed only after a complaint has been filed against a doctor. Even then, the chaperone is often temporary, joining patient visits only for the time period mandated by the state medical board. (The exception, of course, is when a restriction is placed on the physician's license, requiring them to use a chaperone as long as they are in practice.)
Chaperones are intended to serve two related functions:
Protection for the patient. The chaperone's mere presence increases the physician's accountability, which reduces the likelihood that the doctor will behave inappropriately. And if the physician does do or say anything unprofessional or irregular, chaperones can intervene before too much damage is done.
Protection for the doctor. The chaperone can defuse situations by reassuring patients who are uncomfortable with a normal part of an exam, or who may be misinterpreting something the doctor has said or done innocently. Chaperones can also intervene if patients themselves do or say anything inappropriate during an exam. And if a patient does file a complaint, the chaperone can testify as to what actually happened. (Of course, this protects the doctor only if he or she did nothing wrong.)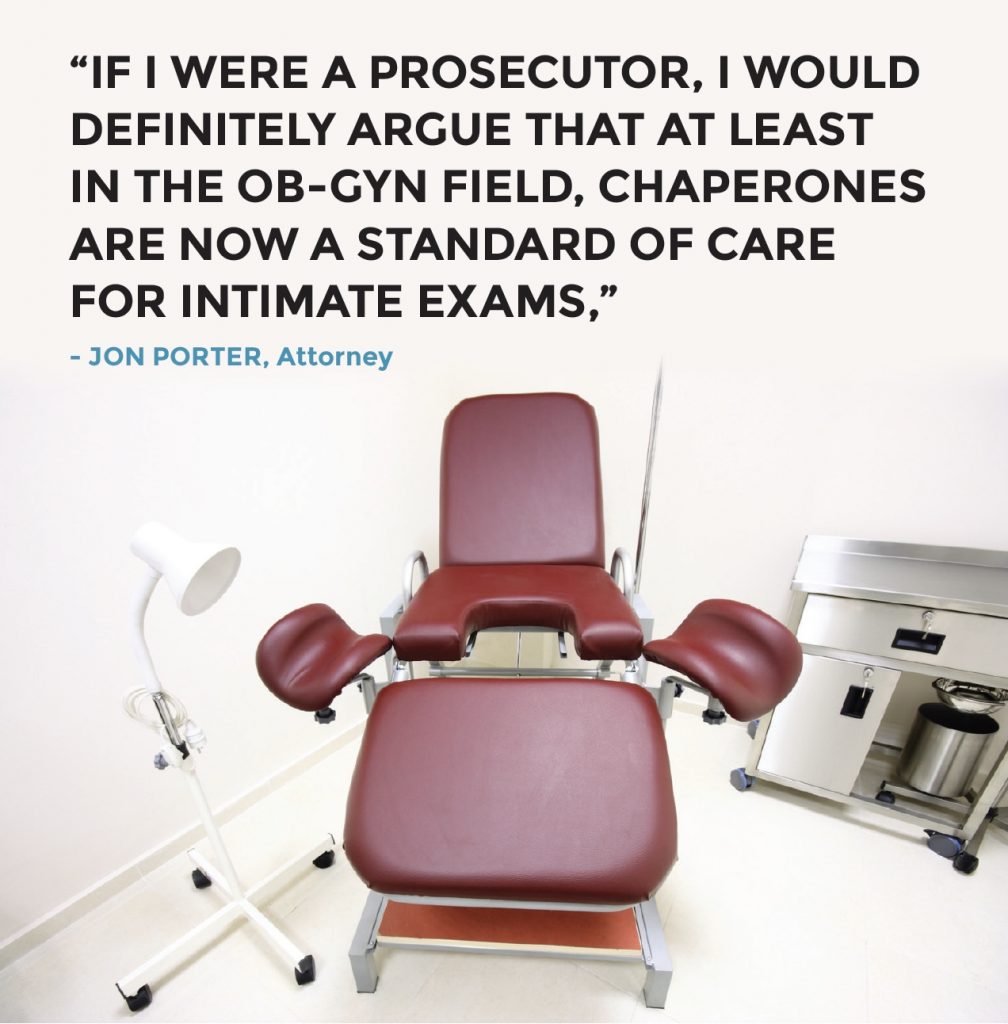 Despite these benefits, doctors who know about medical chaperones (and many do not), shy away from using them for a number of reasons. The most common complaint is cost: few practices and hospitals are keen on paying someone to stand around as a mostly silent observer. Chaperones are generally paid only around $15/hour, but having someone available whenever they might be needed still adds up to more than $30,000 a year.
Doctors who are required to have a chaperone often try to avoid this cost by making use of existing staff, including receptionists and other non-medical employees. Since these staff members don't have the training to know what is normal and customary in exams, their value as chaperones is decidedly limited.
The situation is much improved when a nurse or physician's assistant steps into the role, but taking them away from patient care is both undesirable and costly. Well-trained scribes, on the other hand, are in the room anyway, familiar with medical terminology and the basics of physical exams, and can actually pay for themselves, some say, by freeing physicians up to see more patients. The drawback to using scribes is that their attention is divided between taking accurate notes and observing the moment-to-moment interactions between doctor and patient—clearly not an ideal solution.
Physicians also worry that a chaperone's presence may make the patient uneasy or interfere with the doctor-patient relationship. And patients do sometimes object to having another person in the room, especially one who does nothing but watch them being examined. Jon Porter, a health care attorney with more than 20 years' experience, says that's when that happens, doctors have to step up to their role as educators. "The onus is on the provider to explain to the patient that the chaperone is there in part to ensure their welfare."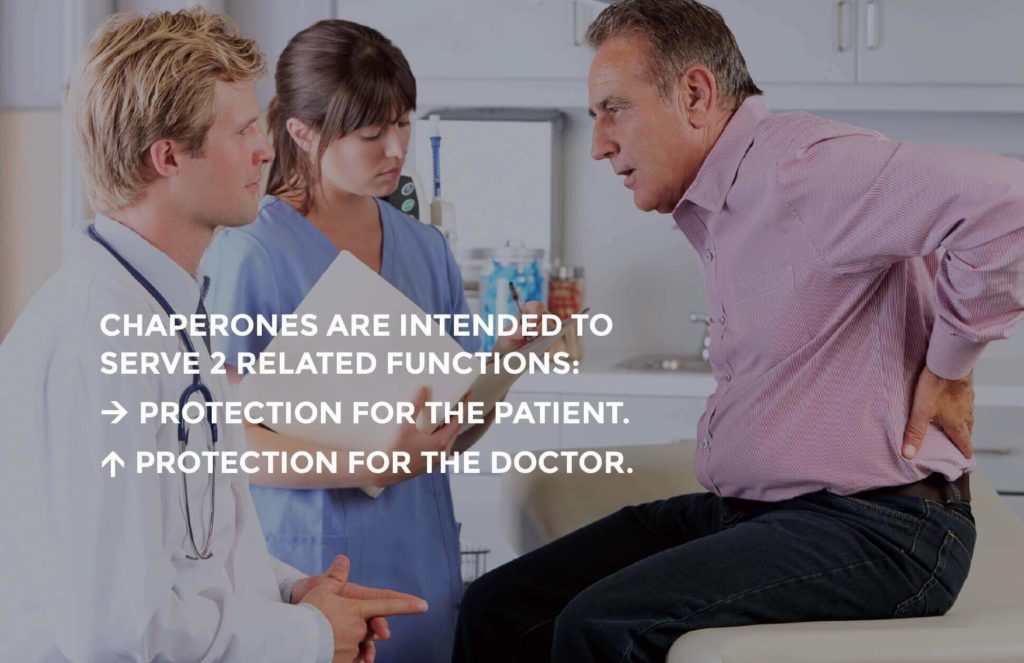 Defense attorneys have little patience with doctors' reservations. Chaperones, they say, are like insurance policies, costly but invaluable the moment a physician is accused of unprofessional conduct. Not only do chaperones offer third-party verification of the physician's claims, says Porter, but they are also becoming a "standard of care," a legal term describing what patients have a right to expect.
"If I were a prosecutor, I would definitely argue that at least in the Ob-Gyn field, chaperones are now a standard of care for intimate exams," says Porter, "And I could easily find a doctor who would say that."
In other specialties, it's less cut and dry, although Porter believes chaperones should be present whenever a patient is undressed, especially if sexual organs are being examined. That point of view is supported by the growing number of states that now mandate the use of chaperones during intimate exams (the number currently stands at seven).
Still, today the vast majority of physicians—at least those not complying with a consent decree—do not use chaperones. That tends to change, though, when a scandal heightens local sensitivity.
When headlines in the UK focused national attention on the case of Dr. Clifford Ayling (convicted of assaulting 10 women), the National Health Service published "A Model Chaperone Framework," offering "Guidance on the Role and Effective Use of Chaperones in Primary and Community Care settings."
When Delaware pediatrician Earl Bradley was convicted of sexually abusing or raping more than 100 children over 10 years, the state passed comprehensive legislation, known as the Bradley Bills, which among other things require a chaperone whenever a child under 15 is at least partially disrobed for an exam.
And just this year, after Dr. Arun Aggarwal was indicted on charges of sexually abusing two teenage patients at Dayton's Children's Hospital, the hospital began requiring "that a staff chaperone be made available during all sensitive procedures," according to the Dayton Daily News.
At a national level, the Harvey Weinstein case has generated intense public scrutiny of sexual abuse in all fields, from Hollywood to Silicon Valley. And at least one state medical board has cited the notorious case in a recent decision. As Porter continues to defend physicians against patient complaints, he cautions, "When things like this hit, it raises concerns not just for the patients, but also for the regulators."
While physicians are well advised to consider chaperones no matter what the current headlines, says Porter, "Doctors need to be on heightened alert at times like this."