New Trends in Sexual Harassment Training
Who needs to be trained, and what do they need to learn?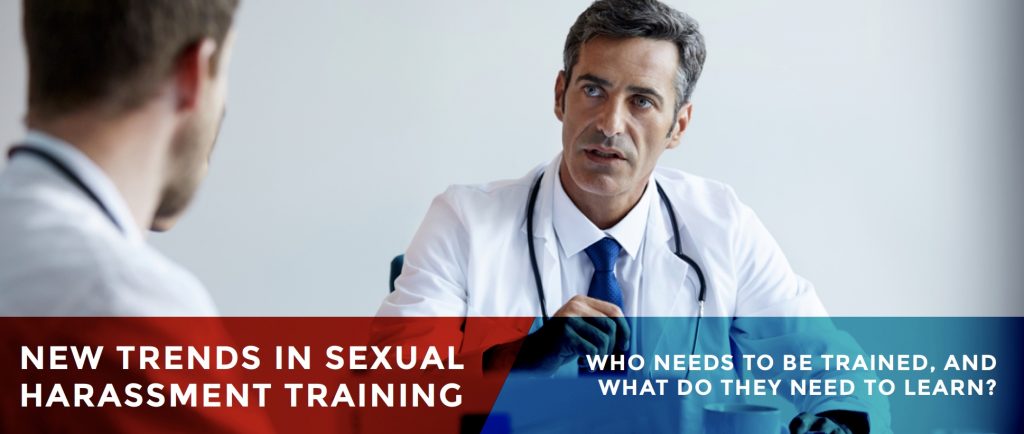 Traditional sexual harassment training doesn't work. It may familiarize employees with relevant laws and company policies, but according to the one study that has measured outcomes, standard training did nothing to reduce sexual harassment in the workplace. Another study found it could even be counterproductive. Apparently, the only ones who benefit from such "compliance training" are employers looking to reduce their legal liability.
But new kinds of training are gaining traction. Margaret Strange, for one, begins her work with organizations, many of them in health care, by meeting not with employees, but with members of the C-suite and the board. They are the ones, she believes, who establish their organization's culture, and Strange emphasizes how important it is for them to recognize the nature of that culture and consider how they want to see it change. Ultimately, the leaders have to envision what they want their organization culture to look like in the future. "Once we figure that out, we can figure out how to cascade that culture throughout the organization," says Strange. Methods can vary, but the process always starts with senior management modeling the behavior they want to see.
Middle managers are key to workplace civility. Consultant and author Fran Sepler understands the value of visionary leadership, but believes it's middle managers who have to turn that vision into reality. In her testimony to the EEOC Task Force, she wrote, "If I had limited assets to improve the climate of any organization, I would invest ninety-five percent of them in middle managers. These are the people who make all of the difference in the day to day lives of organizations and people."

In the training Sepler provides, middle managers learn to listen to what employees are saying and monitor what they are doing. Instead of simply memorizing the policies and procedures that dictate how complaints should be handled, managers are taught practical, emotionally intelligent responses that encourage "a feedback rich environment," in which people speak up when they see or experience a problem and listen when they are told about one.
Sepler's training consists of four parts:
Supervisors are taught how to set the tone for a respectful environment in which people give and take feedback easily and are expected to treat each other well.
Managers learn to intervene whenever someone is rude or uncivil, not wait until they actually break the law. "When you see people being disrespectful to each other, that's the time you need to lead," says Sepler.
Middle managers are also taught coaching skills so they know how to talk to people about their behavior, how to set expectations for better behavior and how to monitor that.
And they learn to handle employee complaints: what to say and not to say, what to do and not to do.
The EEOC Task Force recommended just this kind of "workplace civility training" as a new and different approach that employers should consider. Research has shown that incivility creates a climate of "general derision and disrespect," which is often a precursor to workplace harassment. The goal of civility training is to foster the exact opposite. According to theEEOC Task Force report, "The beauty of workplace civility training is that it is focused on the positive, what employees and managers should do, rather than on what they should not do."
Employees still need training, but of another sort. Another new type of training the Task Force recommends is "bystander intervention training." First used to combat sexual violence on school campuses, this approach empowers coworkers and gives them the tools to intervene when they witness harassing behavior.
Bystander training, too, is grounded in the practical realities of the workplace. In addition to the skills they need to intervene, Sepler says that employees also learn how to gauge their own risk and adjust their behavior accordingly. "Someone who sees two employees being mean to each other, might have a lot of latitude to step in," she explains. "But if you see your supervisor harassing a peer, your ability to intervene may be limited, because you're afraid of reprisal." But there are still concrete steps you can take: "You can at least go up to the employee and say, 'I see what's happening to you. Can I do anything to support you?'"
Personal coaching can sometimes work at the individual level. As efforts are made to change workplace culture, organizations must inevitably face the reality that not all employees may embrace the change or be able to change as quickly as they need to.
In the business world, when an employee accepts that there's a problem, but doesn't seem to know how to fix it, they may be offered the help of a psychologist or trained coach, especially if the employee is highly valued by the organization. In health care, physicians, nurses and other professionals who have been found guilty of sexual misconduct may be required to seek psychological help or remedial education before returning to work, but only if their board believes they are capable of change.
Not everyone can make the transition. While Sepler has seen even privileged superstars make 180-degree turns when they realize the effect their behavior is having on someone else, she has also seen others "who are completely without any remorse and defiant about their behavior." In such cases, most committed organizations will terminate the employee for the good of the culture, unless, of course, the offender is considered indispensable—whether a top salesperson or a star surgeon. Even that may change eventually, however. A recent Harvard Business School study, cited by the EEOC Task Force, found that removing such "toxic workers" is a net positive, saving a company "more than twice as much as the increased output generated by a top performer."